Description
Rollator Walker 14er
When you want nothing but the best.
The Tronic Walker 14er is the world's first rollator with 14" big wheels. We call it the "terminator" as it leaves all other rollators trailing behind it. This machine makes you walk longer distances at a quicker pace and with greater ease!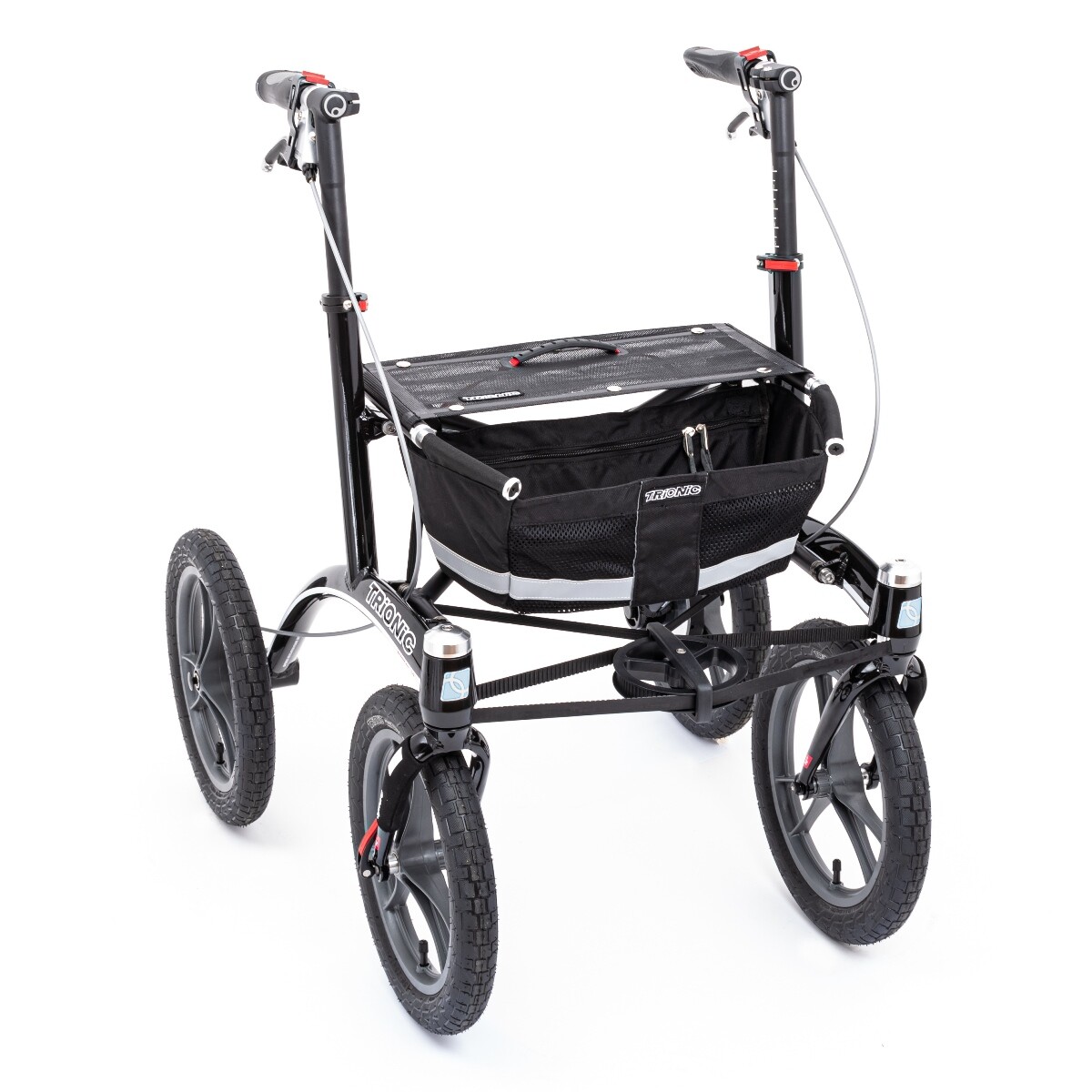 Functions & Features
The Walker 14er is equipped with the following functions and features:
Air-Pressured Tires. Smoothen Your Ride.
The product is equipped with air-pressured tires that offer you a softer ride and unbeatable comfort. As they do not cause vibration like solid tires do, you are less prone to suffer pain and discomfort.
14" Big Wheels. Performance is Everything.
A bigger wheel simply performs better than a small wheel. With the 14"/36 cm big wheels you'll manage obstacles and rough ground, and your comfort level will increase on any uneven surface.
Multiply Adjustable. Excellent Ergonomics.
In order to offer you the best ergonomics, the handles are increment-free adjustable in height, and they can also be turned outwards/inwards. In addition the grips are angle-adjustable, so that you can find your optimal hand position. When compared with other rollators, the seat is positioned further to the front, which means that you enjoy greater space for your legs when walking. As you can then walk closer to the rollator, you automatically get a better and more upright posture.
Quick Folding. Easy Storage.
By pulling the seat handle upwards you quickly and easily fold the Walker. When folded the Walker stands upright by itself and thanks to the X-folding mechanism it is very compact.
All-Terrain Brakes. Safety First.
Thanks to the Trionic All-Terrain hub brake system you can always rely on an optimal brake performance, regardless if you are walking in sunshine, pouring rain or deep snow. The brakes are fully protected from dirt, water and snow.
Trionic Brake Lever. No More Plastic.
The all-aluminium brake lever offers you a solid and high quality feel. When activating the parking brake the parking trigger is easy to operate, and it offers you three different options to engage it.
Seat & Basket. Water-repellent & Durable.
The basket is made from durable and water-repellent 600D polyester fabric. The seat is positioned further to the front when compared to other rollators, in order to offer you greater leg space when walking. The basket has a zippered pocket for your valuables, and a 360° reflector band that guarantees good visibility when walking after dark.
Detachable Wheels. Easy to Transport.
The Walker 14er has detachable wheels with push-button quick-release axles, and you can quickly and easily detach the wheels in order to minimize the transport weight and the dimensions.
Smooth Drive. Easy on Your Joints.
Thanks to the syncro steering, the air-pressured tires and the bigger wheels, the Walker 14er offers you a very smooth ride, and you avoid unnecessary pain and discomfort in your hands, elbows and shoulders.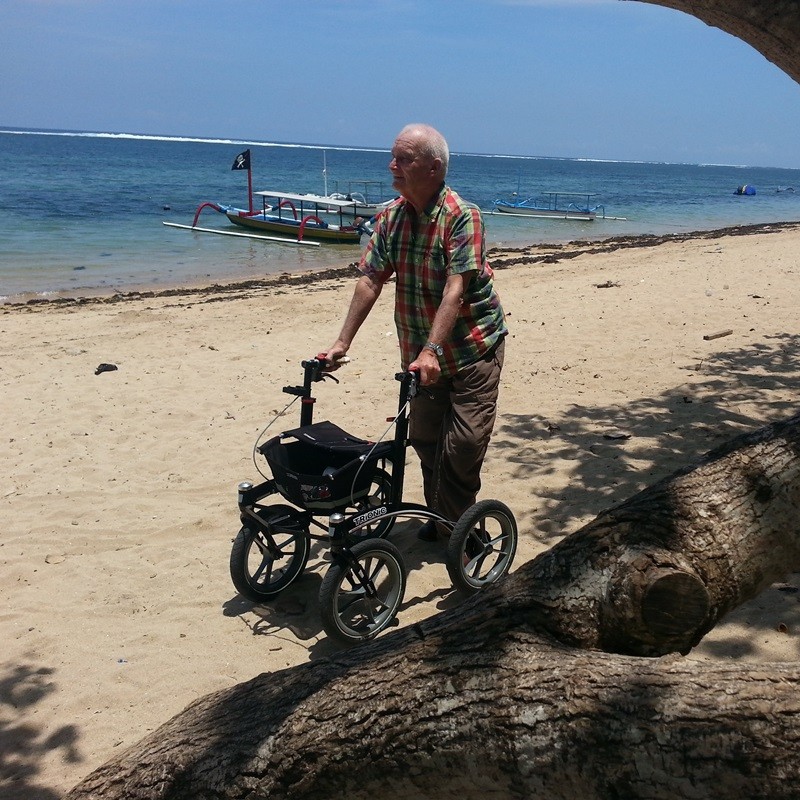 Features
Walkers & Rollators Max User Weight :
Walkers & Rollators Weight:
Attachments
Extended reviews